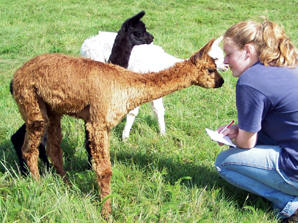 We breed alpaca for the finest fiber in extraordinary solid colors.
Our breeding herd of 25 females are producing cria that will make your farm and your breeding program famous.
Contact us for tours, availability, and a price list for our wonderful suris.
The Crimson Shamrock Ranch has been a leading Suri Breeder for over a decade.

Our Customers are the Most Well Known and Respected Suri Breeders in the Country.

We provide the finest breeding stock known. Our show records prove our success in the breeding of the highest quality suris in the US.